Wow! This family of unique new eXtreme Passage Makers I've been writing about seems to be gaining new members every day.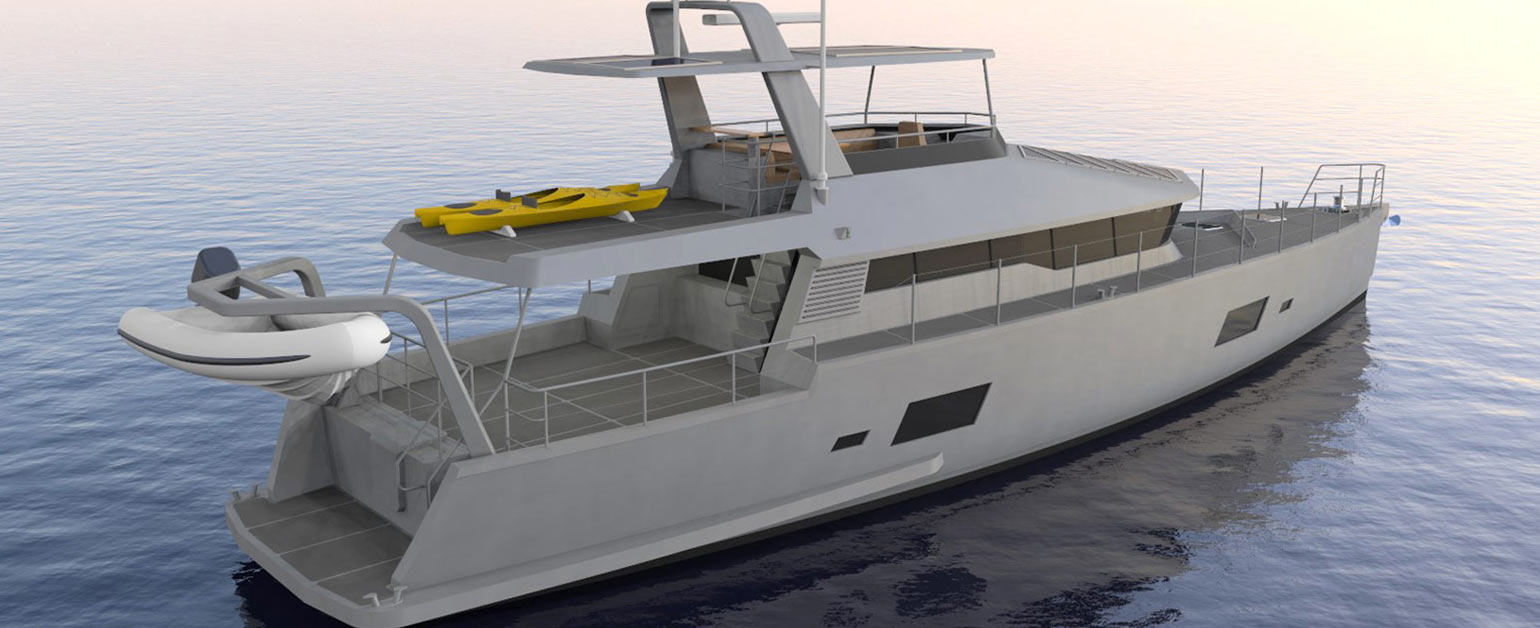 I had no sooner finished writing up yesterday's "Canadian Kissin' Cousins" posting about the recently announced Tactical 77 when Andy, one of our most enthusiastic followers reminded us of the new "Circa 24 meter (78ft) Expedition Yacht" which Circa Marine has recently announced and has on their drawing boards/screens.

As many of you reading this would know, Circa Marine in Whangarei NZ is the very talented engineering firm and shipyard which worked with Steve Dashew to design and build all of the FPB series of boats which totals about 20 boats all together I think.
With the Dashew's recent decision to very deservedly retire themselves so they can finally spend time enjoying their very own FBP78-1 "Cochise" and their decision to also retire and end the Dashew/SetSail/Circa alliance, Circa is now developing their own version of these new type of passage makers.

Christine and I were fortunate to spend a day with the great people at Circa back in November 2016 when we sailed our previous boat down there and they were extremely generous in answering the hundreds of questions we put to them as we made our way in and around the FPB78's and FPB70 they were building at the time. As we discussed the four different size FPB's they had built, 64/115/78/70 we got the distinct impression that the FPB70 was their favorite and they had many of their own ideas they'd like to incorporate in the future. Of course we didn't know then and neither did they that the FPB series was going to end and so not too surprising to us that they have decided to create their own new Circa version and take advantage of their deep experience in building these kinds of boats. Clearly these boats will benefit from what is now about 20 years of experience in building these types of boats, let alone many other boats they have been building for even longer and that this new Circa 24 will be an incredible boat.
Looks like our intuition when we were visiting them was right and like us Circa has decided that the 24m or 78ft size is the sweet spot or Goldilocks just right size for these kinds of boats and owners so we take that as great validation for our coming to the same conclusion with Möbius several years ago. This makes sense as well in that the FPB70 was the last of the FPB's to be designed and therefore the one which benefited the most from what is almost 2 decades of gathering such a plethora of real world data from all the previous boats, all those years and hundreds of thousands of nautical miles of owner experiences and all of Circa's experience in building these boats. Steve was extremely diligent at collecting and curating all this data, sharing it so generously and articulately on the SetSail blogs and learning from it all and the results certainly show this evolutionary journey. Everyone from Steve to all the talented people who worked with or at Circa over all those past 20 years certainly deserve a great deal of credit and a huge amount of gratitude for developing this new style of boat and putting them on the marine world map.
New Zealand is certainly a hot spot in the marine world in general and especially so for these new kinds of eXtreme Passage Maker style boats and the "family tree" has very deep roots there. Back in the early 2000's, prior to the FPB's, Kelly Archer another very talented Kiwi, had designed and built his personal boat "Ripple" which obviously caught Steve's eye at the time and Steve and Kelly went on to have a long partnership designing and building the FPB's.
Oh, and I might add that Kelly chose to put a horizontal version of the same Gardner 6LXB main engine in Ripple. Brilliant!


No coincidence then that we found our own "just right" designer for Möbius in New Zealand when we met up with Dennis Harjamaa at Artnautica Yacht Design. Dennis had designed AND built a boat for himself based on the same DNA I've been outlining of long, lean, low all aluminium low maintenance boats for couples with the shared passion for crossing oceans in extreme safety, comfort and efficiency.
These boats known as the LRC58 and there are now four of them out exploring the world and a fifth beginning it's build phase at Aluboot in the Netherlands. Good article here on the three LRC58's which Dickey Boats in NZ have built and you can follow along with Rob at Artnautica.eu while he was building his LRC58-3 "Britt" at Aluboot.
Thanks to all our "Giant Teachers":
Since I was very young I've always been fascinating by the way in which we humans are able to continuously learn, innovate and advance by "standing on the shoulders of giants" which Wikipedia nicely describes as:
"… expresses the meaning of "discovering truth by building on previous discoveries".
This concept has been traced to the 12th century, attributed to Bernard of Chartres. Its most familiar expression in English is by Isaac Newton in 1675: "If I have seen further it is by standing on the shoulders of Giants."
Christine and I are retired teachers as are most of our siblings so we have that in our DNA as well and we see these "giants" as the great teachers in our lives. We do our best to be very highly motivated learners and we certainly want to add our deep gratitude and appreciation for the many giants whose shoulders we humbly stand upon, learn from and leap forward.
Currently we find ourselves standing upon the shoulders of several other such giants and teachers such as Dennis at Artnautica and Dincer and Baris here at GreeNaval who have been instrumental in transforming our vision into the reality that is Möbius and we can't wait to launch her and join this growing family of eXtreme passage makers out exploring the world one nautical smile at a time.