For most of my life I have strived to "put myself in the way of Beauty" and as the work on Möbius starts to branch into multiple materials from the aluminium of the hull to the copper of the electrical wiring to the rosewood of the interior cabinetry I find myself in the envious position of being immersed in beauty thanks to all the skilled people working all these materials into what I often refer to as "collaborative works of art and engineering". Beauty is a feeling that comes through all of our senses, not just sight and if you come along with me for this week's progress update tour and I think you'll agree.
I will start our tour with the latest aluminium work; finishing the Lids for our in-house designed and built hatches.

Last week saw the CNC cut 10mm / 3/8" thick plates being welded to their 8mm thick flat bar frames so this week Uğur and Nihat ground those welded surfaces flat and flush ….

…. and then polished the outer edges to a beautiful lustre,

and the stack of polished hatch lids grew higher.

These polished edges were then protected with blue masking tape and Mehmet cleaned up the inside corners which will be filled and sealed later with a cove of epoxy.

Then the corners of he bottom edges were machined with a 4mm radius to round over this edge and make it feel as beautiful as it looks. Last step will be the tricky one of welding the Hinge Arms to these Lids and we'll show you that next week.

Several of you asked to see the jig I mentioned last week that Uğur and Nihat fabricated and used to tack the Hinge Boxes to the deck and outer Hatch Frame such that the holes for the SS Hinge pins were precisely aligned with each other and this is it.

The two tabs on the jig slight snugly into each hinge box and the SS hinge pins are slid in place.


Using this jig, Uğur presses each Hinge Box up tight against the underside of the deck and the outside of the Hatch Frame and slides the SS hinge pin through the jib and boxes. This holds them in perfect alignment as he then tacks them in place.

Viewed from up on deck here is what the finished Hinge Box looks like as it waits to receive the Hinge Arms of the completed Lids in a few weeks.

Which will look like this when done. The lids will have 15mm tempered glass adhered to them and there are two 20mm ID drains in the bottom "gutters" of the outer Hatch Frame (red here) to quickly remove any water that makes it down between the Lid and Frame.

Down in the Engine Room/Workshop one additional aluminium detail has been looked after with the tacking up of the hinges on the Engine Room door which completes the Engine Room Enclosure construction and can now be fully insulated and lined with Alucaboard as it waits for the installation of the sea chests and ultimately the massive Gardner 6LXB engine and Nogva CPP propulsion system.

Speaking of Mr. G as we refer to our mighty Gardner engine, several of you have asked for an update on his status which will have to wait for a bit longer I'm afraid.

All the other aspects of the build have been consuming all my time to date, but I can give you this sneak peek and confirm that I am now busy with completing the full restoration of Mr. G to better than new condition. Thanks for your patience and stay tuned for MUCH more in the coming weeks I promise.

Sticking with metal but changing to copper as in wires and cables, Hilmi our electrical lead continues to string wires throughout the boat, the latest being these gray ones which indicate that they are AC power lines which in this shot are crossing the ceiling of the Workshop and heading for those white cable trays to take them forward……

……. to these wire trays in the Basement.
The loop of black 50mm / 2 fuel hose on two of the Fuel Fill/Vents into one of the six fuel tanks is exciting to see as this means they are pressure testing the latest round of work on the tanks and fuel plumbing.

Such as installing the lids on all the many access ports on each tank.

Same is happening for all six water tanks.

All these SS studs will either be ground down flush with the tops of the nuts or have acorn nuts threaded on their ends for safety where they will be walked on.
All this metal work is truly beautiful to this beholder but the newest source of beauty is over in the cabinetry workshop here at Naval Yachts so let's head over there to fully immerse ourselves in this week's beauty bath.
I don't think you need to be a cabinetmaker to appreciate the beauty of the swirling grain and colours of this Rosewood we are using for all the interior cabinetry.

These are the first of MANY more panels to come out of the veneer press. The brown tape is used to hold each seam of veneer tightly together when they are being glued up.

Each of the hundreds of pieces in this eXtremely large jig saw puzzle of cabinetry requires its own combination of veneer, solid rosewood and solid beech such as you can see in this piece that has just been glued up and is ready to have its edges trimmed and corners rounded prior to being machined for biscuits, dados, rabbets and other joints.

Adding plywood to the mix, here we see all four woods coming together for this corner where a solid beech inner block is faced on two sides with Rosewood veneer, one side with 10mm 3/8" thick solid Rosewood and the fourth side glued to the vertical sheet of marine plywood.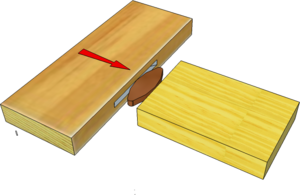 If you are not familiar with the term "biscuit joint" is a very strong and fast way to glue two pieces of wood together with a small oval "biscuit" made of compressed wood that tightly fits into matching grooves cut into the two joining pieces.
In our case these joints are mostly used to keep two parts precisely aligned and edges flush as they are glued up and the whole assembly is then held together with other joints and ultimately fastened super solid to the aluminium and wood inner frames of the boat. One of the great joys I learned first hand while sailing our previous all steel sailboat for over 12 years was discovering how QUIET metal boats are. Unlike other hull building materials, steel and aluminium hulls don't flex and move when at sea so there is not the typical cacophony of squeaking wood joints that is typically prevalent in non metal hulled boats. When you add all the 50mm / 2" thick EPDM foam insulation we have installed you end up with an eXtremely quiet boat. Subtle differences to some perhaps but this lack of such intrusive noises is a huge part of the beauty I feel when at sea in such boats.

Here is another example of how some of the wooden jig saw puzzle pieces are joined, this being a half lap joint where two dados or slots are cut half way through each adjoining sheet and then slid together.

A bit hard to envision at this point, but Omur our Head Cabinetmaker is putting together the inner framework that supports the king sized bed in the Master. The vertical sheet to the rear is one half of the large headboard which extends up to the ceiling.

Lots of details have changed since this rendering but it will help you visualise what you see Omur putting together above.

A few more details of the cabinetry craftsmanship is seen in this example of how every exposed edge of plywood has this kind of T insert to give the edge that 10mm thick solid Rosewood ….

rather than typically just being veneered over.

This is eXtremely eXpensive in terms of both labour and wood but two big reasons we have gone this route. First is to prevent having any exposed veneer edges which over years of use would end up coming away and splintering.
Second being that I am insistent of not having ANY sharp 90 degree corners on our boat! They must ALL be rounded over as you can see in this quick sample board we made up. The vertical corner has about 20mm radius and the outer edges you can see on top here are about 5mm radius.
Needless attention to detail some might say but for me, the feel of smooth rounded wood edges is part of the "emotional design" I am striving for and is a very significant factor in the Safe-Comfortable-Efficient trifecta of primary characteristics these XPM boats.


Carrying my insistence, obsession if you insist, with having rounded edges, I've come up with what I'm calling a "quilted" look where two edges join each other, even if they are glued such as this one.

Another bit of attention to detail if you look REALLY closely (click to enlarge) is how the Rosewood veneer has been applied AFTER the solid Rosewood T edging has been glued and trimmed flush with the underlying plywood.

The MUCH easier way to apply solid wood edging to veneered plywood can be seen in this illustration where you first apply the veneer to the plywood, trim it to size and then glue on the solid wood edging last, then trim and sand the two flush.
Works well enough but you tend to see the glue line and even the smallest gap or splintering between the veneer and the solid wood edging. If you look back at the photo of the "quilted" joint above you will see that by overlapping the veneer on top of the solid wood edging and then shaping the rounded corner, the grain of the veneer flows smoothly into that of the solid wood edging.
Again a MUCH more labour intensive detail but Naval's cabinetmakers and I wouldn't have it any other way and when you see the results once the final finish has been applied I think you too will agree it was all worth it.

Continuing with corner details you saw the prelude to this last week as the solid Rosewood was being glued to the Beech block underneath and now this has been machined with a 50mm / 2" radius.

Ends capped with Rosewood veneer as a small part of this will be seen as you will see as this bed frame is assembled, the 50mm corner will fit into these two hollow cored sides to the dropped ceiling box above the bed, as per the rendering above.

Just dry fit here but it shows how the two 50mm corner pieces fit with the three sides of this frame. All those adjoining edges will be rounded over to create that "quilted" look before they are glued up with biscuits.

A few more details on weight saving for those still bearing with me, those three flat sides above may look like they are made of a single plank of solid Rosewood but they are in fact mostly hollow box frame sections that are very light and very stable. We deposit more weight saving dividends into our weight budget by using poplar cored marine plywood for all the cabinetry rather than Baltic birch marine plywood as it is considerably lighter, more dimensionally stable and has a flatter surface for veering.
Saving the best for last in this focus on cabinetry corners, here is a peek at how Omur and his crew are creating all solid wood large 100mm / 4" radius corners for all the vertical edges throughout the interior.
Veneer would have been SO much easier and cheaper but as you know from your home, these corners are high traffic areas that suffer a lot of wear and tear over the years and if these were done with veneer they would show this very visibly and with no real way to repair.
Instead all corners and edges on Möbius are solid wood which will stand up to this wear and tear indefinitely and will be relatively easy to repair any damage back to like new for the very long life these XPM boats will surely have.


As you can make out here, three lengths of solid Rosewood have been cut with edged mitered at 30 degrees and biscuit glued together to form a 90 degree corner.
Gluing the three boards has to be done in two steps as trying to clamp all 3 at the same time would not create perfect glue lines and then once all the glue is cured the outer surface is machined to the 100mm radius followed by copious amounts of elbow grease with a radiused sanding board.

Knowing what went into creating this corner will help you understand Omur's hard earned look of exhausted pride as he holds up this first prototype of such corner construction that he and his team will now use for all the many other corners onboard XPM78-01 aka Möbius.

I may not be as exhausted but I am certainly just as proud and happy as Omur and his talented team of cabinetmakers are. And they are just getting warmed up so stay tuned for much more from all the talented people on Team Möbius as we continue to bring you these weekly progress updates.

Short but hopefully sweet video here is your video summary for this week. Will try to do more next week.
As always, thanks for following. Like, subscribe and most importantly add your comments, suggestions and questions in the "Join the Discussion" box below.