Last month I put up a post "Newest Member of this Family of Passage Makers" about the newest members of Dennis' Artnautica LRC58 line of boats, the LRC58-3 "Britt" and LRC58-4 "Raw" which have both been launched and are now at sea as will be joined by LRC58-5 being built in the Netherlands.  My larger comment and purpose for that post, and for this one, is to highlight the rapid growth of a whole new style and type of long, skinny ocean crossing passage makers which are most often designed to be owned and operated by a couple with no crew.
An overall name for this new family of passage makers has not emerged as of yet and they aren't trawlers, they aren't pilot boats, they aren't military boats though they have characteristics from all of these types and many others.
I will write a future post that will go into more details of this new style of ocean crossing beauties but wanted to introduce you to the newest family member which my crack researcher Christine uncovered yesterday in this recent article Simon Murray wrote for Power and Motoryacht magazine entitled "Meet the Special Forces-Inspired Tactical 77".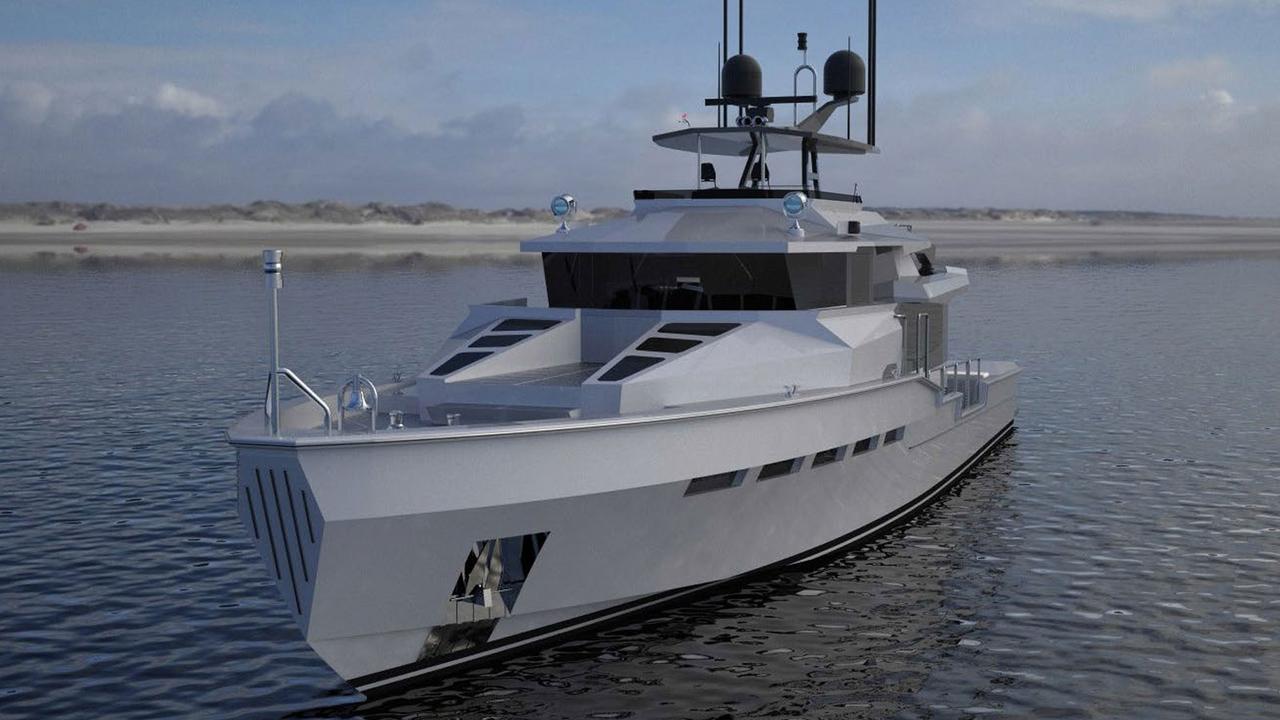 The "Tactical 77" as it is being called is a recent design from Bill Prince of Bill Prince Yacht Designs of a 24 meter all aluminium ocean crossing passage maker for an ex Special Forces gentleman to take his family out cruising the world.
She will be built by the Canadian builder Tactical Custom Boats located near Vancouver British Columbia and near where I lived while going to the British Columbia Institute of Technology BCIT and University of British Columbia back in the early 70's and then taught High School for many years in nearby Ladner.
Located in Richmond B.C., Tactical' s web site says they build;
High performance aluminum boats designed for speed, comfort, and safety in all operating conditions – without compromising dependability, luxury or design.
Sound familiar?

As you can see from these pictures, location is not the only thing we have in common.  The similarities to our upcoming addition to this new family named Möbius which we are referring to as eXtreme eXploration Passage Maker or XPM are striking.  It is no coincidence that the looks of these boats are so similar because the owner's requirements and the design goals and use cases overlap extensively.  To quote this P&M article;
"Prince was tasked with designing a cohesion of extremes. The client wanted a high-performance vessel with pseudo-military exterior styling and interiors that emphasized luxurious, superyacht-like accommodations."
Sound familiar?
It will if you've read over my earlier post "Project Goldilocks: Mission Impossible" where I outlined the overall mission and all the key characteristics Christine and I have for designing and building Möbius.
Prince went on to say about the client;
"He wants a really comfortable yacht that will scare the Coast Guard from a quarter mile away." 
Christine and I are not interested in scaring our friends in the world's Cost Guards but are very keen on similarly deterring any "bad guys" with mal intent towards us.
"We have designed go-anywhere capability and luxurious accommodations inside aggressive, pseudo-military exterior styling," says Prince.
Sound familiar?
There are a few differences mind you when it comes to weight, costs and power.  For example "the boat will be propelled by twin MAN 1,900hp inboard diesels giving the Tactical 77 combined 3,800HP and top speeds over 35 knots."  Yikes!  Mobius for comparison will have about 150HP and a top speed of 11-12 knots.  But I'll be much happier paying our construction costs and our fuel bills!

However at their core all these new kinds of boats share very similar purposes and owners and I was most intrigued by a story the designer Bill Prince shared when interviewed for this article:
With the owner's highly specialized background, you would think clients like him are exceedingly rare. Yet Prince had three people come to him separately a few years ago, asking for essentially the same thing:

a low-maintenance, go-anywhere-in-any-kind-of-weather, aluminum cruising boat that doesn't require a full-time crew.

"In the space of six to eight weeks I listened to three gentlemen who were all experienced yachtsmen describe almost the same spec," said Prince. "So, I've seen this coming for a couple of years."
Almost like reading my own writing!

In the Mission Impossible posting I shared that the mission statement Christine and I brought to Dennis, Dincer and Baris is:
"The just right boat for exploring extreme locations in equally extreme safety and comfort."
and some of our key characteristics for Möbius included:
all aluminium, no paint, no stainless
Go far, Go everywhere, Go nowhere (@ anchor), Go alone
couples boat
lowest possible maintenance
Strong Industrial/commercial quasi-military "vibe"
Interior with extremely high craftsman level fit and finish
You get the idea.
On the one hand the owners of these new style of boats have their own unique use cases and criteria, so each of their boats will be similarly unique.  However when viewed by others they will tend to look similar because at their core these boats are designed and built for those who share a passion for long, low, lean & mean low maintenance boats which inspire them to cross oceans in eXtreme safety, comfort and style.  We can't wait to add Möbius to this growing family of ocean crossing passage makers and more so to join them out exploring this awemazing watery world of ours.